Chestnut
Recognizing the chestnut tree
Chestnut is recognized by:
Its trunks reaching 25-35 meters tall.
Its smooth gray-purplish bark that later turns silver
Its ribbed oblong leaves
Its brown burrs.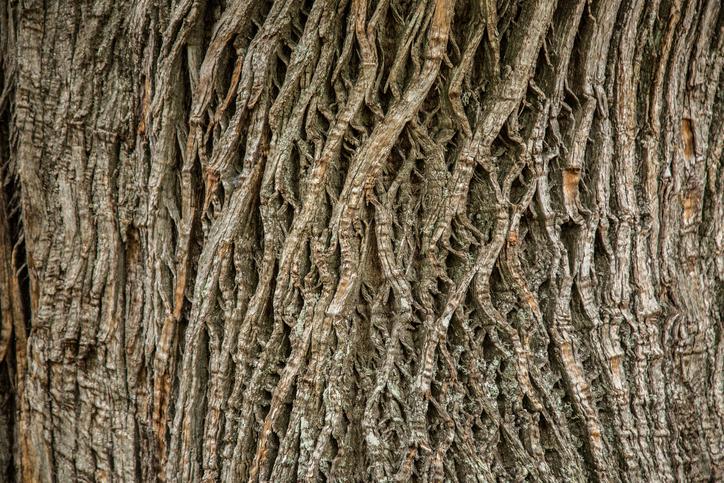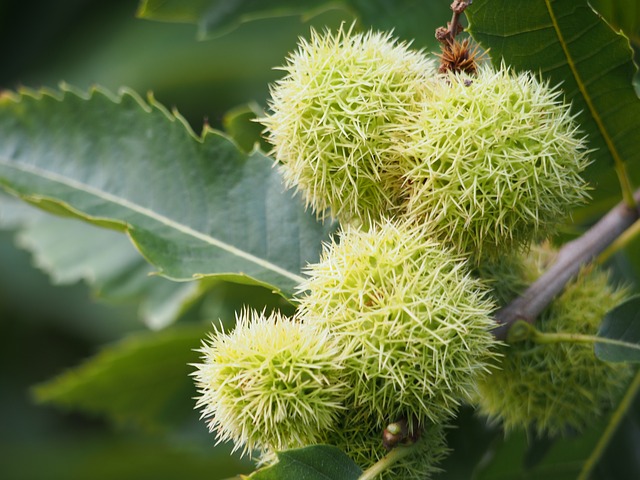 Sites favored by this species
Temperatures
Average of 8-15°C. This species needs warmth and light if it is to grow well.
Rainfall
Annual average between 800 and 1,500 mm per year. Can tolerate up to two months of dry weather. This species thrives in areas where mist is frequent.
Soils
The chestnut prefers dry, light but deep soils. Covers certain flinty soils, especially those of volcanic origin or derived from granite. Only rarely found on chalky soils. Can adapt to steep slopes and to temporary drought conditions. Likes: dry soil, heat and light.
Root development of the chestnut
Deep taproot system.
Wind resistant
Chestnut plantation
| | | |
| --- | --- | --- |
| Density | Spacing | Advantages |
| 800 to 1,500 plants/ha | plantation: 6-12 meters for fruit plantation. 3- 4 meters for lumber. 2-3 meters for a planted fire line. | Very fast growth and long lifespan. |
N.B. Regeneration is quite easy as seedlings do well under cover. Regular, abundant fruiting from 20 years old.
Chestnut wood
Yellowish or yellow-brown heart and very narrow sapwood
Easy sawing, slow drying with risk of deformation
Very durable heartwood.
Excellent wood for carpentry, cabinetwork and joinery.
Also used to make stakes, barrels, parquet flooring, etc.
Trade name: chestnut.
Health
Economic view
The chestnut was historically known as the pauper's tree, producing the 'bread of the poor', but this does not mean it is insignificant as a species - quite the contrary.
In fact, with its fruit production and timber, it occupies an enviable position in two market segments.
As the third ranked deciduous species in France, it is a very valuable tree when standing and chestnut wood is often sought for its perfection. The purchase of a chestnut forest can thus be an interesting prospect.
Chestnut wood has always been part of our lives, thanks to its multiple qualities and applications: mainly appreciated for quality parquet or paneling, it is also used as lumber or in industry and to produce stakes. The physiological characteristics of the species mean that none of its wood goes to waste (it can all be used in one way or another).
With all of these qualities, the acquisition of a chestnut forest can be a good investment. Its strong, rapid, regular production of quality wood and fruit means its market remains dynamic.
Chestnuts are much sought-after in the fruit-bearing season and have always been popular with consumers.
The chestnut is mainly found in southeast France, in Languedoc Roussillon and Provence-Côte d'Azur. It is much less common in the rest of the country.
The chestnut is very significant on the wood market for its fruit and its wood. It is much sought-after for its many qualities and still has a promising future.