European silver fir
Recognizing European silver fir
European silver fir is recognized by:
Its erect cones measuring 10-15Â cm long on the crown branches, falling from the tree when mature.
Needles: soft, with two white bands on the lower side and a nice citrus scent
Branches: smooth at two years old, beige-gray with short, blackish (or russet-colored) pubescence.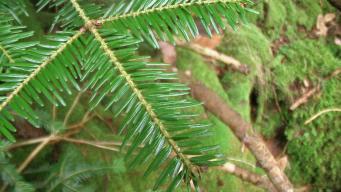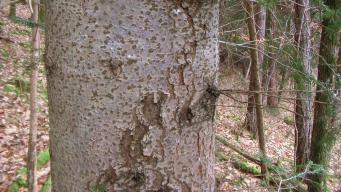 Ideal sites for European silver fir
Temperatures
Tolerates the shade in the first ten years. Doesn't like frost and summer drought. Resists the wind and cold temperatures well.
Rainfall
At least 900Â mm over the year. Does not tolerate drought. Requires constant atmospheric humidity.
Altitude
400-800Â m. Typical species at the mountain and subalpine levels.
Soil
Not fussy about the soil's chemical content, but does not like compact or waterlogged soils. Rare on chalky soils with little clay content. Not found on shallow skeletal soils.
Root development of European silver fir
Deep roots, powerful taproot system if the rock is cracked.
Growth and production of European silver fir
Very slow initial growth.
Production of 8-12Â m3/hectare/year (depending on site). Can reach up to 15Â m3 on the most suitable sites.
European silver fir plantation
| | | |
| --- | --- | --- |
| Density | Spacing | Benefits and drawbacks |
| The usual density is 1,000-1,300 plants/hectare. In some cases, 2,200 stems/hectare can be attained. | 3 x 3 m for 100 stems/hectare | Since it is very sensitive to frost, the European silver fir is preferably planted under shelter. Not used much because of its very slow growth and sensitivity in the open. |
| Through regeneration. Uneven-aged stand or selection system | Natural regeneration of the European silver fir is widely used to ensure its renewal. | It produces fruit every two or three years after the 40th year. A heat-loving species that can germinate with just 1% light. |
Final density in an even-aged stand: 250 to 300 stems per hectare at the age of 70/80 years.
European silver fir wood
Sapwood: indistinct
Heartwood: matt white to pale pink, clearly veined in the late wood
Straight grain.
Texture: fine to medium, dependent on speed of growth
Main uses: Joinery, carpentry, crates, paper pulp
HEALTH
Economic view
The European silver fir is the fourth most common conifer species in France.
It is traditionally planted with other species such as beech or under cover with Scots pine. The European silver fir is usually and traditionally managed in an uneven-aged stand.
This management method means European silver fir can be a worthwhile investment as no clear felling is required. Instead timber is harvested during thinning work every seven years. Regular income is therefore guaranteed with no need for clear felling and subsequent planting.
European silver fir is a white wood that compares favorably with spruce. It has good technical characteristics: it is highly resistant and offers good impregnability. It is used in carpentry and laminated applications.