Aleppo pine
Recognizing Aleppo pine
Its trunk measuring up to 22 meters
Its buds covered in brown scales; they are non-resinous.
Its long yellowish needles, measuring 6-10 cm.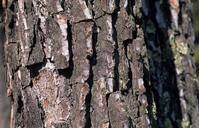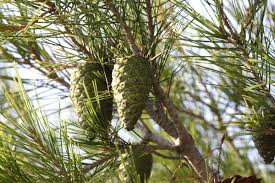 Sites favored by this species
Temperatures
Annual average of 11-19°C. Not very resistant to frost. Heliophilous species (needs a lot of light)
Rainfall
Species that adapts to drought (withstands 1-6 dry months); 400-1,000 mm/year
Soil
Tree that grows on all soil types, apart from very arid conditions. Aleppo pine grows on dry land.
Root development of Aleppo pine
Deep roots to draw water at depth.
Wind resistant.
Aleppo pine plantation
| | | |
| --- | --- | --- |
| Regeneration | Density | Benefits and drawbacks |
| Plantation of 1,100-2,500 stems | 3 x 3 or 2 x 2 m between each plant | Choice of variety |
| Natural regeneration | Depending on the number of individuals having borne fruit | Renewal of a large number of plants. Thinning out is essential. |
Growth and production of Aleppo pine
This type of pine grows slowly
It can produce around 3-5 m3 per hectare per year, depending on site.
Aleppo pine wood
White wood with a light russet-colored heart
Used for small roof frames, posts, packaging (crates), for its sap (resin extraction) and for firewood
Trade name: Aleppo or white pine.
HEALTH
Economic view
This type of wood can be used in numerous applications, including resin extraction to take the tree's sap (an age-old custom) for use in pharmaceutical products.
Wood sector professionals also make regular use of it so there is a buoyant Aleppo pine market.