Interview with Olivier Favre, 'Parc Oméga, the project of a lifetime'
---
From Alsace to Québec? Olivier Favre made that journey 22 years ago. He soon forged links, and trust was built on some firm bases with the hard-working Québecers who love their wild fauna and flora, and there was no longer any need to talk about who came from where.
In 1996, Favre joined the vast Oméga Park project in Montebello, to understand how it worked, analyze it and promote what since has become the leading wildlife park in Canada. Stretching over more than 800 hectares, this park harbors wildlife and flora with full respect for ecosystems and welcomes 280,000 visitors a year.
We look back at how Favre's dream deservedly came true in this country of wide open spaces, where everything can be achieved when you take pride in a job done well.
Photos: Paul Simon
Olivier Favre, you are now the proud owner of Parc Oméga in Montebello. What brought you, a businessman from Alsace, to the Land of the Elk?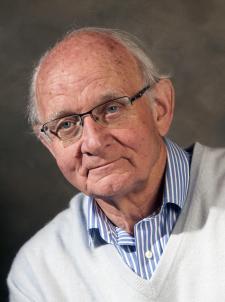 As you say, I started work in Alsace when, at the age of 23, I took over the family insurance firm, which had been passed down five generations. At the time, I had already thought about studying at the University of Montreal, but business is business and I instead began to develop the family business, making it a benchmark for corporate insurance brokerage for 30 years.
I have no regrets because that's what made me the man I am today. Then, at the age of 50, I decided to make a huge change to my career. I had no definite idea but there was one thing clear in my mind: I wanted to go into a field that I knew nothing about and learn how it worked. A real challenge! So, a wildlife park in Québec? Why not!
I was 50 years old and ready to make a leap in my career.
A new venture, with a hint of freedom.
How did it all begin? Did you have some kind of North American dream in mind?
I was definitely attracted to the great outdoors, a taste for adventure and the opportunity to do business that Canada makes simple. So, in 1996, when my childhood friends, brothers Alexis and Paul Spengler, invited me to join them on their adventure, I went for it
I made 'humility' and 'observation' my watchwords.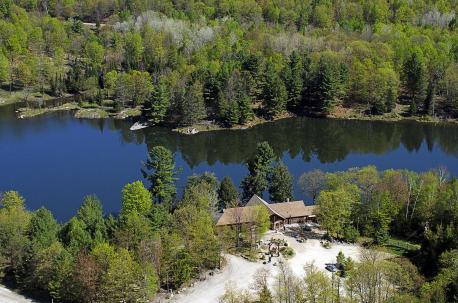 They had purchased the premises, which was an outfitters in the Outaouais region, north of Montreal at the time – to pursue their passion for hunting.
Responding to demand, they soon turned the site into a wildlife park, a haven for North American species. I knew nothing about the country or its wildlife.
I learned everything from the local people and I placed my trust the park's staff, who are very competent. In particular, I turned to the park director, Alain Massie, who has in-depth knowledge of the biotope, and in Charles de Reinach, whose forestry knowledge is invaluable. He stood by me through the whole adventure.
So, I made 'humility' and 'observation' my watchwords and since 1996, I have helped develop the park, which is now a benchmark among North American wildlife parks.
Gambling on profitability: So how does a wildlife park in Québec make a profit?
It was an uphill battle in 1996. At that time the park was losing $300,000 a year and yet something inside me urged me to for it, insisting that it would work! It didn't happen by itself. I worked hard, shedding blood, sweat and tears in a country I was unfamiliar with. In all humility, I watched, listened and learned in the field, from the Québecers. We have to respect animals. They accept us, not the other way around.
When I acquired my partners' shares in 2001, I reinvested all the profits in the park's infrastructure. Another gamble on the future! I have often felt quite alone: imagine yourself out there, alone, in November, with the wind howling through the forests of the far north once night has fallen. That's where my mind was, at times.
But I have a real thirst for life and today, I'm able to breathe it all in.
I'm constantly thinking about how to develop our offering, and that's important. I continue to listen to the park staff and my deputy: they are extremely professional and great resources!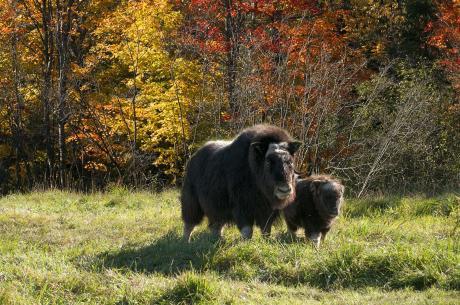 Tourists can visit the park on foot or in their car. Among the species that now occupy the park's 800 hectares, there are elk, moose, bears, wolves (white, black, gray...) and bison.
An old farm dating from 1949 was renovated in 2003 to house livestock. Or head to the sugar shack and learn more about the maple syrup production rituals.
And recently, an Indian fur trading post has been built in the style of the early settlers. Meanwhile, the First Nations Trail and the Land of the Pioneers trace the country's history. Our goal over the last 20 years or so has been to spotlight the fauna, flora, nature, culture and history of Québec.
Log cabin accommodation is available in the park, surrounded by nature. Many people stay over in the park, on their way from Montreal to Ottawa. And night-time visits will soon be on offer!
Our Québecois wildlife park appeals to the locals, which is the most important thing for us. With an average admission price of $25 a day, we can be described as a 'popular' day out for the public, which can only be a good thing.
Here, personal relationships are simple and genuine. I am very proud of this sustainable kind of tourism product that respects nature while making a dynamic contribution to Québec.
What advice would you give to a French businessman looking to invest in Québec?
We talk about the American dream, but we must not dream the European way.
In Québec, fashion and brands do not come into it. Québecers are looking for simple products that are good value-for-money. Montebello's Parc Oméga now welcomes 280,000 tourists and is one of Québec's major attractions. This is because it answers people's expectations for nature and authenticity, and remains genuine. It gives people the opportunity to see animals in their natural environment while presenting the country's culture and history. A wildlife park in Québec has to live up to expectations!
I would also say that it is more difficult to borrow from Canadian banks. You are better off starting out with a French bank, or better, investing cash in Québec to make transactions much easier.
On the other hand, things are quite simple in administrative terms. The rules of the game are very simple: 'I say, I'll get things done in the next few hours'. We discuss things and take action in real time, which is extremely motivating in terms of efficiency and working capacity. That is why the idea of setting up a wildlife park in Québec was never impossible.
Why is it worth investing in Québec?
Land is undeniably cheaper than in Europe. The country also gives you access to some very large areas where you can start your project from scratch, which is pretty exciting. There is much greater freedom to do things than in France. It is much easier to make your dreams come true.
However, some areas are out of reach, such as the green zone reserved for agriculture. You will therefore need to focus on a white area.
There is much greater freedom for your projects than in France... and social security contributions are lower too.
Social security contributions are lower too, so it's easier to recruit staff. And foreigners are welcomed in Québec. A lot of French people have already settled here, so yes, it's definitely worth investing in Québec!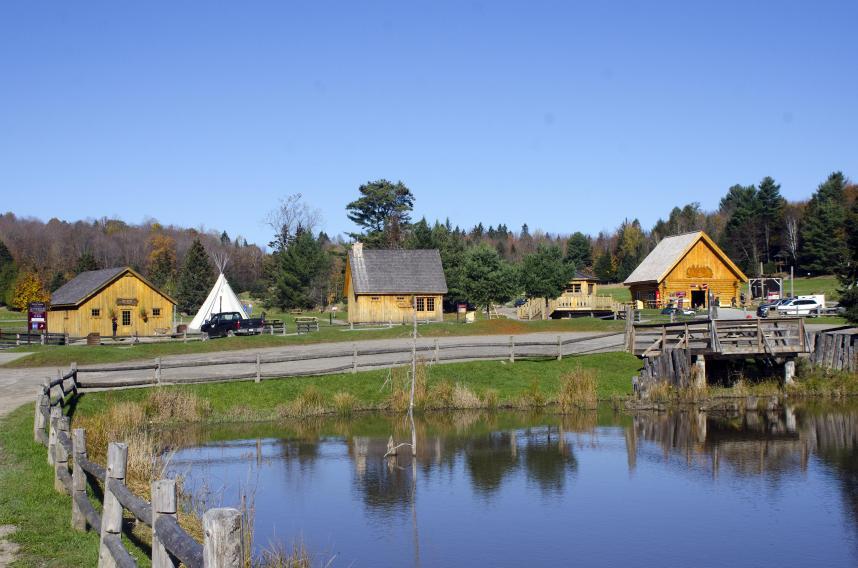 So, can you now say that your dream has come true?
Definitely. I'd go as far as to say that I see a dream come true every day. Parc Oméga here in Montebello gives me the extraordinary opportunity to express both my entrepreneurial and creative sides. Here, you can dream of doing something and then do it,, it's as simple as that! I would say that it's unique to Québec, there is so much space for creation, far beyond your dreams!
Have you thought about creating this kind park in other countries?
Of course the Montebello Parc Oméga model could be applied in other countries, but I prefer to do a good job with what we have here. We have an eye for detail. For example, we use local sculptors to enhance our facilities. I am more of an artisan model than a franchise developer. I prefer to invest in Québec.
Parc Oméga is a kind of showroom of Québec's natural environment and I enjoy continuing to refine it.
One last question, what is your relationship to the forest?
The forest is intrinsic to our wildlife park project in Québec. In our region, it is particularly beautiful with its majestic white pines. It's a species I like because it is stately and elegant.
Our Parc Oméga in Montebello would be meaningless without the forest. We owe it so much.